I'm so excited to share one of my favorite online jewelry shops with you today. The shop is called
Brute Beauti
and I recently did a little interview with the incredible artist and owner, Ali Rae Rossberg, who just happens to live here in Wisconsin (Green Lake)! I found Ali's store when I clicked on a gorgeous circle ring found on my daily email from
Etsy
and I was wisped away to
Brute Beauti
. I
was just crazy about so many of her pieces and photographed a couple of these lovelies to share with you today and let me tell you, we seriously love them.
Meet Ali everyone!
Your work is stunning and strong and yet so delicate. What is your background and how did Brute Beauti come to be? What does is mean?
Brute Beauti represents who I am as a person and a creator. I like jewelry that is strong and bold for everyday wear and care, yet balanced with the look of delicateness and ease. My father is a goldsmith and so was my mother. I feel like I have a combination of both of their styles, light and airy with a classic, clean sensibility.
Where do/did you find your inspiration for this line of jewelry?
I create jewelry I personally would like to wear. Either I find inspiration from my surroundings or I find it from a previously done piece and take it to the next level. My mind is constantly spinning with ideas for what is next.
Do you have a workspace at home? And approximately how long does it take to make one piece?
I have a studio at home and I share a workshop with my father as well. It's great to have someone else in the workshop to talk about jewelry all day with and bounce ideas back and forth. Depending on each order, time varies to meet each customer's needs.
I think it's wonderful that you're a Wisconsin girl! Has your home town had an impression of your craft and creativity?
Growing up in such a simple, small town, I definitely create pieces that can withstand building campfires and shoveling snow. I am a hard worker and I want functional jewelry that I can wear even when I'm digging in my garden.

What's your favorite piece of jewelry in your personal collection?
It is a pendant that my father created in the shape of our lake. He has sold them to many people that live in Green Lake and to people that have summer homes here. He puts a stone in, representing what part of the lake you live closest to. It's a beautiful reminder of where I come from.
What piece do your customers love most?
I really have had such a great response from many of my pieces but the Heart, Infinity and Full Circle rings have been the most popular orders. I make them for special occasions and I am flattered to be a part of it. Hearing the stories from my customers makes my job so fulfilling.
I noticed that you're also an incredible painter. Wow! Who is your favorite artist and how have they had an effect on your work?
Thank you! So many artists have influenced me but over the years Richard Schmid has inspired my figure and portrait work and Robert Henri, for my artist spirit.
Any big plans and dreams for the future?
I plan to keep creating new pieces and push myself further each year. I am planning on opening another Etsy shop with jewelry created using lost wax casting method, where I build rings out of wax and cast it into 14kt gold or sterling silver for more edgy, one of kind pieces.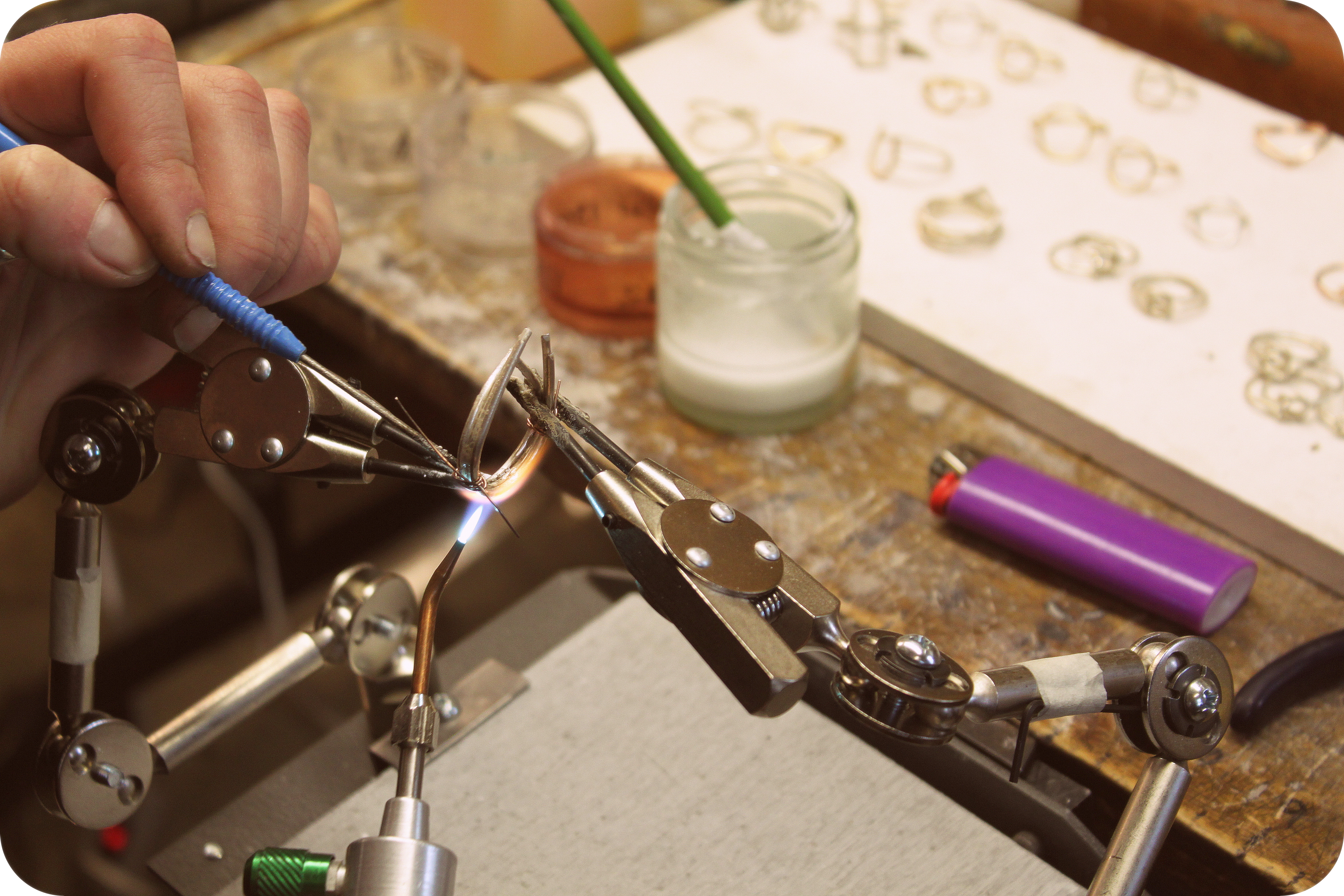 Best place (city/country) you've ever been too? And along those lines, could spend hours daydreaming here …




After high school I moved to an arcology (architecture + ecology) called Arcosanti. It's located in Mayer, Arizona. It is an urban laboratory focused on innovative design, community, and environmental accountability. I was surrounded by artists, architects and like minded people that helped shape who I am today. It's a place that will always be a part of my life. Someday I hope to return to live, work and explore the many options Arcosanti has to offer. It's really an incredible life changing experience.


Anything else you want to add?




Being able to share my craft with people, not only locally but all over the world, has become a dream come true. I really can't thank my customers enough for choosing to support a working artist and giving me a chance to connect with them personally.




Ali, thank you so much for taking the time to answer these

questions

and allowing us the chance to peek into your creative process. Friends, Ali is offering a 10% off discount

to all Lovelies readers. Simply type in the coupon code - WISCO10 when you make your purchase. Visit Brute Beauti here!